Virtual Staging, 3D Walkthroughs & Interactive Sales Kiosks Are The New Age Of New Home Marketing
New Home Construction has been booming across the country. According to a survey by Trulia, twice as many people prefer a newly built home over an older home. The biggest reasons cited are modern amenities and the ability to customize the home to their preferences during the construction process. This also means that buyers expect more from their pre-sales and builder consulting experience than ever before.
In a cut throat environment of increased competition from big players, combined with lofty buyer expectations, real estate developers have been turning to innovative digital marketing tactics to stand out from the pack.
How do you attract new construction buyers?
New construction buyers are attracted to homes that have the potential for a stable and long-lasting investment. They want their money spent wisely on building materials with lasting value, so they look out especially for new builds in areas where there's plenty of growth coming soon or already happening right now!
If you want these customers as part of your list too it will take more than just listing your house – though this does help–you'll also need some minor renovations like fresh paint jobs here along with w/ updates throughout; putting together packages tailored specifically around what each buyer wants from his home purchase experience can really pay off when trying to get him into one particular week.
Here are some New Construction Marketing ideas that are sure to delight your customers and help you build a Tech-Savvy Construction Company.
Virtual Staging
Virtual staging is the new wave in home staging where you stage the pictures of homes using 3D furniture and décor, instead of bringing in actual physical furniture into the house. According to NAR (National Association of Realtors), 90% of buyers cannot visualize a vacant property effectively. Virtual home staging is a cost effective way to show the potential of the property to future buyers without renting expensive furniture or hiring movers.
Virtual Staging can also allow you to stage the same space in multiple different ways tailored to each demographic. In the age of Pinterest and Instagram, the power of Virtual Interior Design as a New Home Marketing Tool cannot be underestimated.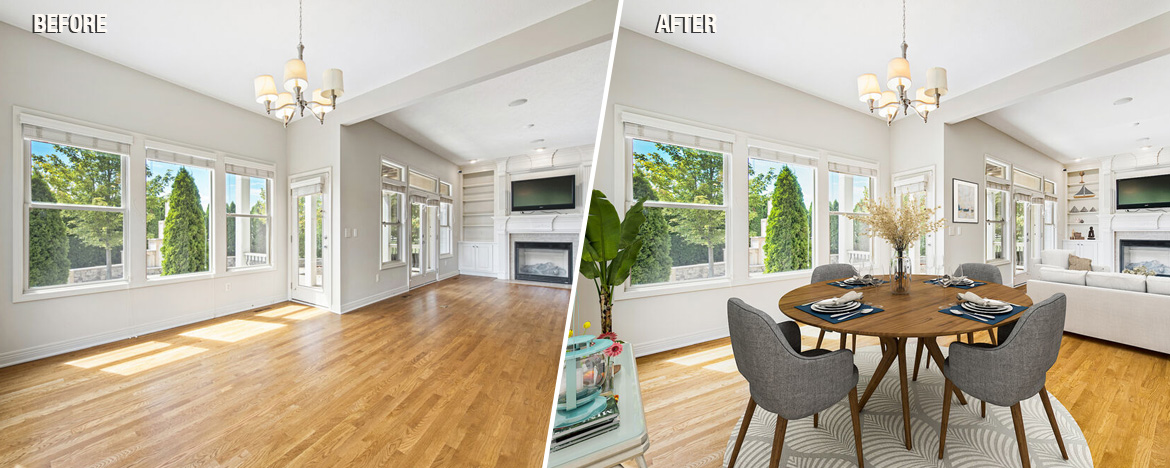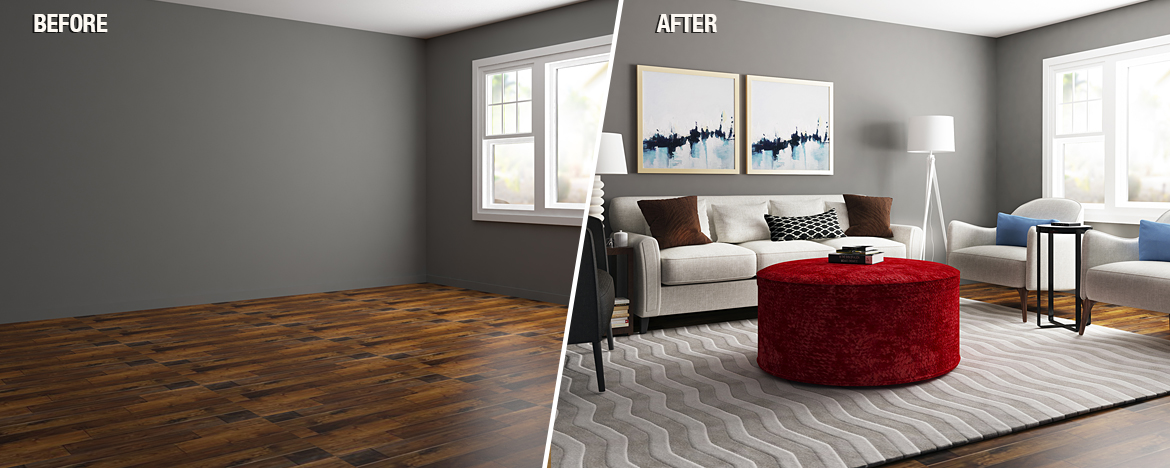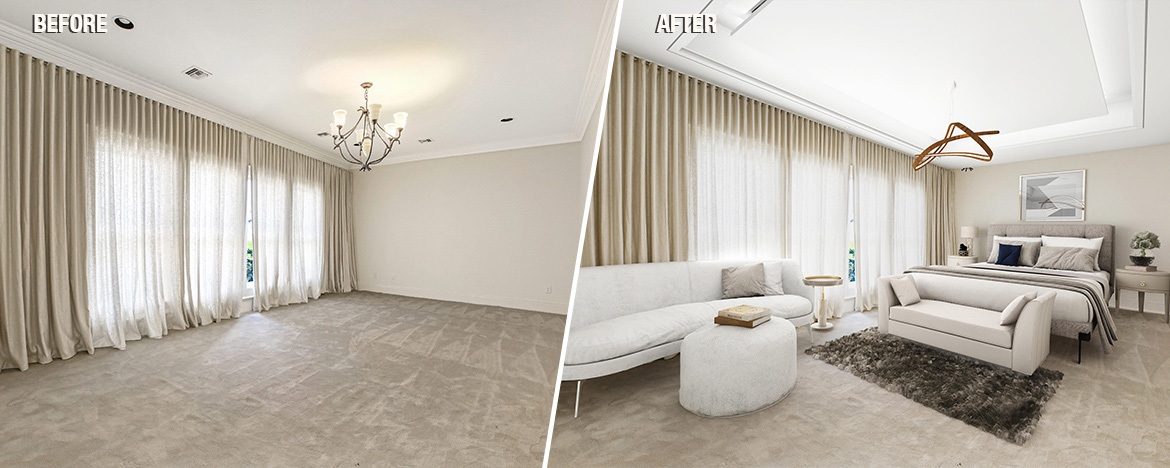 3D Walkthrough
Most Home Builders are not marketing their properties early enough. The smartest property developers understand the power of 3D Architectural Renderings as a pre-construction marketing tool. 3D renderings give you the ability to start marketing homes as soon as the architectural plans are submitted, well before you break ground.
3D Walkthrough is a video tour of the property where the customer can virtually walk through the house before it's built. This type of rendering goes a step further from still 3D renderings in helping convey a sense of space to potential buyers. 3D Walkthrough also takes the guesswork out of the construction process by showing the clients exactly what to expect from the final finished space.
Interactive Sales App
Modern home buyers expect more control and involvement with the home building process. The sales center experience has evolved where just having a physical office with paper brochures no longer cuts it. Innovative construction companies provide interactive lot selection and home design apps via mobile, tablets and in-office sales kiosks. Buyers can view fully furnished 3D floor plans and virtually configure their options in real-time. This level of interaction gives potential buyers a psychological ownership of the home they are configuring, helping boost sales and customer satisfaction.


Automated Drip Marketing
All of the above tactics help bring interested buyers through the door. What happens when they leave? That's when automated drip email marketing comes into play. Drip marketing refers to pre-configured email marketing messages that go out to interested buyers at certain pre-set intervals from the time when they visited your website or sales center. You can use each email message in the chain to highlight certain aspects of the neighborhood, construction quality, available plans, options and more.
This type of marketing only needs to be designed and scheduled once. Once you set it and forget it, it pays dividends for as long as it runs. Most email marketing systems support some form of automated drip marketing. Our platform of choice is Mailchimp.
Large multifamily developers in major metropolitan markets have already been using these types of marketing strategies successfully. These are increasingly becoming accessible to smaller real estate developers as well. In a hyper-competitive business of New Home Sales, building beautiful homes and capturing buyers' emotions using digital marketing techniques is a sure-fire recipe for success.
Free Estimates
Everyone likes free stuff better than the same thing that costs money. So offer free estimates. You can't lose, and you may even get the business. Is your time worth nothing? If you think that, then send a free estimate to everyone who asks. You may get the business anyway.
If your time is indeed worth nothing, and I'm hoping this isn't true, what will you say when someone calls for an estimate on a $5-10 million property? They call one guy and he says "I don't do that." They call another guy and he says "I'm too busy, here's a free estimate." You don't have to be rude or unhelpful. Just tell them you don't do estimates over the phone and offer something more worthwhile.
Create Content
You can stay in business by making it your goal to be an expert with content creation. The more you create and provide free valuable information about your industry with articles, videos, etc., the more you will be noticed. You may even attract new business partners or team members with your name recognition for being an industry expert. Everyone knows that the construction market is tough, but if you keep fighting then the results will speak for themselves when your business is thriving. Remember that content is king.
How do builders advertise?
So how do builders advertise? They use a variety of different strategies. Some may hire an agency to place their ads in various media, like magazines or online listings sites for instance; some might take out print ads while others are more likely to post messages on social networks with pictures from job sites if they're active contractors that way too – Builders can use several methods to find new clients. The first and most common way is through word of mouth, where potential buyers tell their friends about what a great job they did building or buying from this company, in particular, .check them all!
How has New technology improved construction?
The use of drones and 3D printing are just two recent innovations that have changed construction in many ways. For one, they allow architects to see what their designs will look like before pouring any concrete or laying down steel beams; this is especially helpful when making complex mazes with narrow widths- something not possible without these new tools! As well as helping designers imagine structures much more efficiently than ever before (and even saving time), there is another significant advantage: reduced accidents rates because workers can work from distance instead of having close contact during installations.
New technology has revolutionized the way that construction projects are managed. Gone are the days where a builder could only work on one site at once; now they can monitor everything from anywhere with just their cell phone or laptop!
Conclusion:
If you could only hire one contractor to build your dream home, wouldn't it make sense that you would use a subcontractor with the most experience and best reputation in the business? Why then, should homeowners entrust their biggest asset (their home) to a construction company without vetting their credentials ahead of time? Doing so could be a costly mistake. Skipping the due diligence process and hiring a construction company based solely on price can have dire consequences for your project.
In this article, we outline the steps homeowners should take before signing any construction contracts to ensure their dream home becomes a reality instead of a nightmare. Builders' financial stability is the foundation upon which every successful construction project is built upon.
Builders who can afford to purchase enormous amounts of excess materials throughout the year are always in a better position than those who don't. This allows for much higher profit margins and more negotiation power with subcontractors. A sound financial footing equates to lower construction costs, increased customer satisfaction, and peace of mind for homeowners.